Sale!
Philips Easykey 7100 Fingerprint Digital Door Lock
Designed for stable and lasting performance. Philips 7000 series lever smart door lock can be mounted on wooden doors, copper doors, iron doors, security doors and other types of doors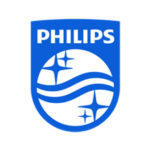 Description
Stable and lasting performance
Overall lasting secure life to family
Tranditional Handle Style Use
Manual Touching Wake-up System
Manual Locking Function
protects your home security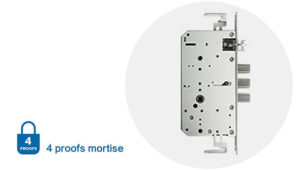 The mortise comes with 4 functions: anti-prying, anti-dismantling, anti-sawing and anti-collision. The stainless steel material used with high hardness is durable and non-rusting, and can withstand high temperature, fire and viol
enhances door lock and home safety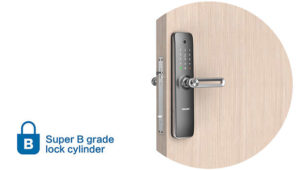 Lock cylinder is the key component that controls the opening of the lock and is compared to the heart of a lock. Super B grade lock cylinder employs multiple antitheft technologies with unique design of the pin tumbler and vane structure, and gives high performance on preventing technical lockpicking.
replace the old door lock, easy and worry-free

Philips 7000 series lever smart door lock can be mounted on wooden doors, copper doors, iron doors, security doors and other types of doors, and also applies to doors with multiple lock points with an adaptation rate of up to 99%*. You can directly remove the old lock and install the smart lock to open up a smart life.
protects mortise from needless wear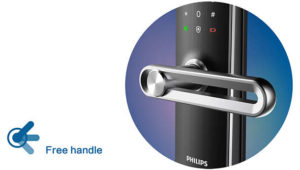 After the lock is locked, the handle is in a free state where moving the handle upwards or downwards will not drive the mortise, thus protecting the mortise from needless wear and giving you more long lasting companionship.
for swift unlock and information safety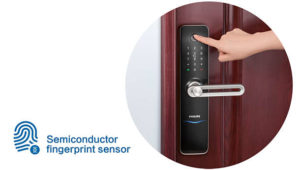 The lock employs a semiconductor fingerprint sensor with an identification speed of less than 0.2 second, which is fast and sharp. The identification is implemented by way of human skin temperature, capacitance value etc. Fingerprints can not be duplicated or copied, imitation. It can effectively prevent fake fingerprints or fingerprint film. You can enjoy smart, easy, fast and safe smart life.
eliminates safety risks and keep you reassured while away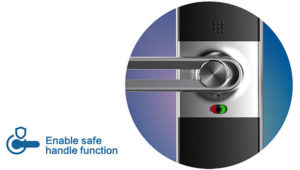 You can enable the safe handle function before you leave home. After the door is locked, the indoor handle will be locked up to ensure that nobody could open the door by pushing the indoor handle. This feature can effectively prevents unlocking from indoor, thus eliminating security risks and improves anti-theft performance.
no dead ends in home security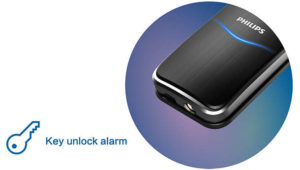 Philips 7000 series lever smart door lock is equipped with smart alarming lock cylinder. When someone opens the lock thorugh the mechanical key hole, the mortise will give an alarm, which can effectively prevent violent damage and technical lockpicking.
NOTE:
Free Installation within Klang Valley and Major Cities in Malaysia

Installation usually takes between 2 to 3 hours to complete.

This product could be installed on some security door, you could send us your door lock image to [email protected] or

Whatsapp
Warranty period is 3 years. During warranty period, under any circumstances of normal usage (as per user manual), shall the product malfunction will be entitled to free repairs by Distributor. If there is any problems with the product within Four (4) weeks of the warranty period, purchasers are entitle to a one to one replacement of the same product or a refund.

Installation is included only for BASIC door installation not requiring additional customized accessories or equipment. Installation for security doors could require some additional accessories or equipment to ensure all deadbolt locks are working accordingly and this could require additional charges for the additional accessories or equipment. Charges is dependent on degree of customization and is to be paid by client separately.

Installation is included only for service areas within coverage by Philips Digital Lock Malaysia authorized installer team.
Brand
Philips